Summary
Want to know how to share YouTube Music? Read this guide, we will show you 3 ways to share YouTube Music with family or friend for both YouTube Free & Premium users.
Can I stream music on multiple devices simultaneously using YouTube Music? YouTube Music is compatible with various Android, iOS, desktop, smart TV, and Google-enabled smart devices. However, if you have a standard YouTube Music Premium or YouTube Premium account, you can only stream music on one device at a time. Nevertheless, you can sign in and utilize the offline feature on up to 10 devices concurrently. This limitation exists to prevent multiple users from sharing a single account. So, how can you share your YouTube Music with your family or friends? Continue reading to discover the solution.
Part 1. Sharing YouTube Music via Link [For Free & Premium Users]
When we discover an amazing track, our first instinct is to think of a close friend or family member who we believe will love the song. Fortunately, YouTube Music allows us to directly share songs with our friends and family members who are also on YouTube Music. Don't miss out on the opportunity to share great songs with your loved ones.
You can easily share songs from the YouTube Music app using either a computer or a mobile device. When you share a song, a link is generated, which you can give to others. You can share the link on popular social networks like Facebook and Twitter. Keep in mind that if your song contains private videos, you will need to invite your friends or family members to view the videos first. Here's how you can share a song:
1) Open the YouTube Music app on your mobile device or visit music.youtube.com on a computer.
2) Open the song you wish to share.
3) Tap the three-dot menu next to the song.
4) Select the "Share" option.
5) From there, you can share the song on social networks, embed it, or send it via email.
Sharing music via link is the easiest way to share YouTube music with your friends or family. This method doesn't require a premium account for YouTube Music. However, the recipient will only be able to play the songs or song online. If you have a large number of songs to share, it might become challenging using this method.
Part 2. Sharing YouTube Music with the Family Plan [For Premium Users]
If you need simultaneous access to YouTube Music across multiple accounts, YouTube offers a family plan that allows up to 6 users to enjoy personalized feeds. The Music Premium Family accounts are available for $14.99 per month. Moreover, YouTube Music is included at no additional cost with a subscription to YouTube Premium, which is priced at $11.99 per month. YouTube Premium offers an ad-free experience, offline video playback, and background playback. For $17.99 per month, you can have 6 profiles with the YouTube Premium Family plan.
Here's how the family plan operates:
By subscribing to a YouTube family plan, you can share your paid YouTube membership with up to 5 family members who reside in the same household (at the same residential address).
As the account holder or family manager, you'll create a Google family group and invite your family members to join. This enables you to share your YouTube Premium, YouTube Music Premium, or YouTube TV membership with them.
Each family member can use their own Google Account to access the YouTube paid membership, ensuring their viewing and listening preferences remain separate. They will continue to have their own personal library, subscriptions, and recommendations without any sharing across accounts.
Sharing your YouTube Premium, YouTube Music Premium, or YouTube TV membership as part of a family group also allows you to share other Google services. For more information on family groups, you can explore Google's platform.
A family plan simplifies the sharing of YouTube Music. Every family member can enjoy the songs you download them for offline listening, as long as they reside in the same household. However, this feature is restricted to family members and cannot be extended to friends. Therefore, you can exclusively share high-quality YouTube Music songs with your family.
Part 3. Sharing YouTube Music Songs without Restrictions [For Free & Premium Users]
If you are using YouTube Family Premium, you have the convenience of downloading songs from YouTube Music and sharing them with your family members. However, it's important to note that the downloaded songs can only be enjoyed while your Premium subscription is active. If you wish to break the limitations and have more flexibility in sharing YouTube Music playlists, there is an alternative solution available – 4kFinder YouTube Music Converter. It is a professional music downloader tool that enables you to download songs, albums, and playlists from YouTube Music to your local computer for offline listening.
With 4kFinder YouTube Music Converter, you don't need to install the YouTube Music app or have a premium account. This powerful tool allows you to convert YouTube Music songs to popular audio formats such as MP3, M4A, AAC, WAV, FLAC, and AIFF at a remarkable 10X speed. Rest assured that all the songs you download will maintain their original audio quality, and the ID3 tags will be preserved after conversion. This means you can enjoy your favorite YouTube Music tracks offline without any limitations.
Key Features of 4kFinder YouTube Music Converter
Easily download songs and playlists from YouTube Music for sharing.
Convert YouTube Music to MP3, M4A, AAC, WAV, FLAC or AIFF.
Preserve the ID3 tags of the songs.
Maintain the original audio quality.
Download YouTube Music at 10x faster speed and supports batch conversion.
Free-ads on YouTube Music content for free users.
Built-in YouTube Music web player, no need other apps.
Tutorial: How to Download YouTube Music to Computer
To begin, you'll need to download and install 4kFinder YouTube Music Converter on your Windows or Mac computer. The software is compatible with the latest operating systems.
Step 1. Start 4kFinder YouTube Music Converter
Once installed, launch the program. It will automatically direct you to the built-in YouTube Music web player. From there, log into your YouTube Music account. Whether you are a free user or a Premium subscriber, you can utilize this software to download songs from YouTube.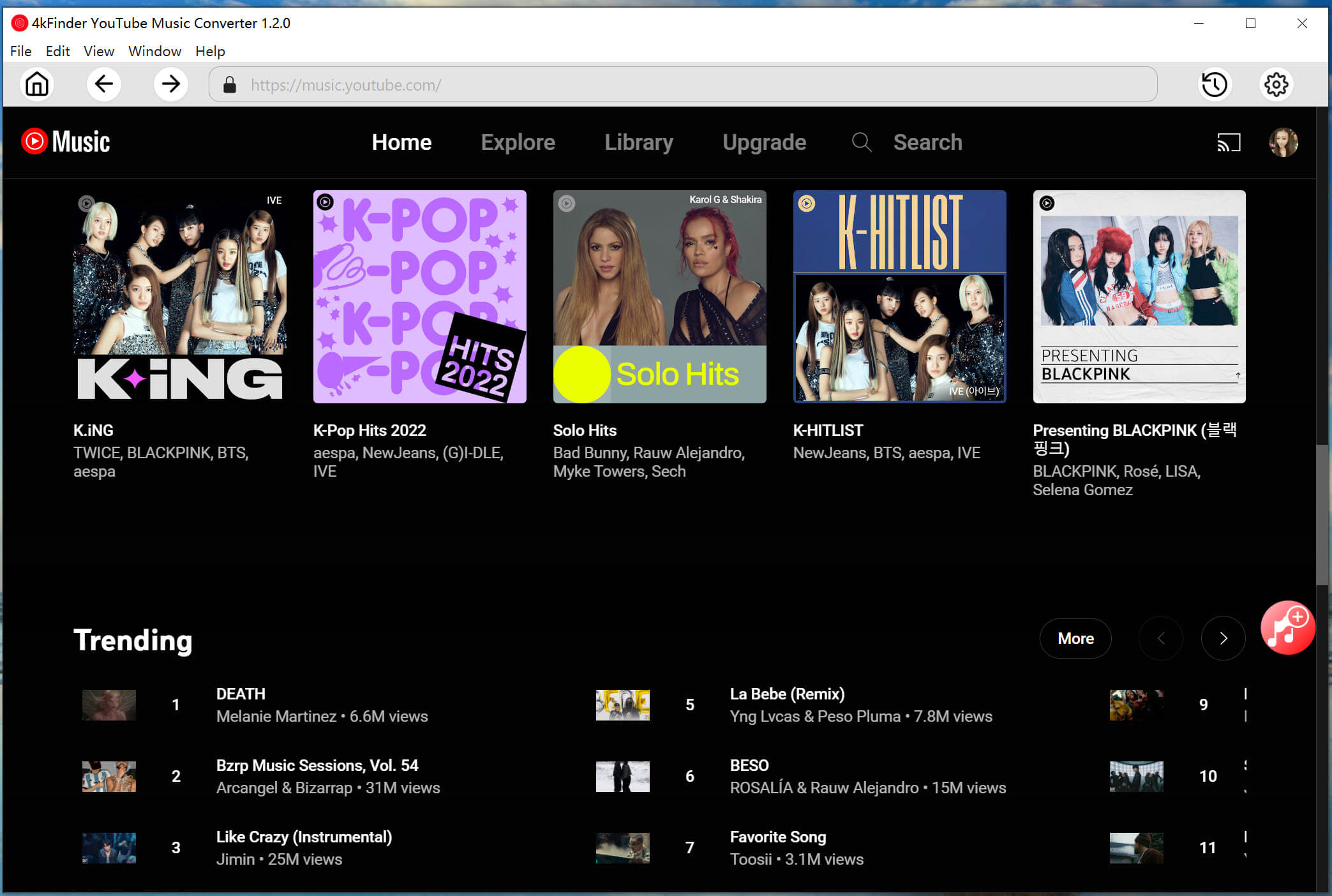 Step 2. Choose Output Settings
Navigate to the "Settings" option located in the top right corner to access various customization options. Here, you can personalize the output format (MP3, M4A, AAC, WAV, FLAC, AIFF), output quality (128kbps, 192kbps, 256kbps, and 320kbps), output folder according to your preferences.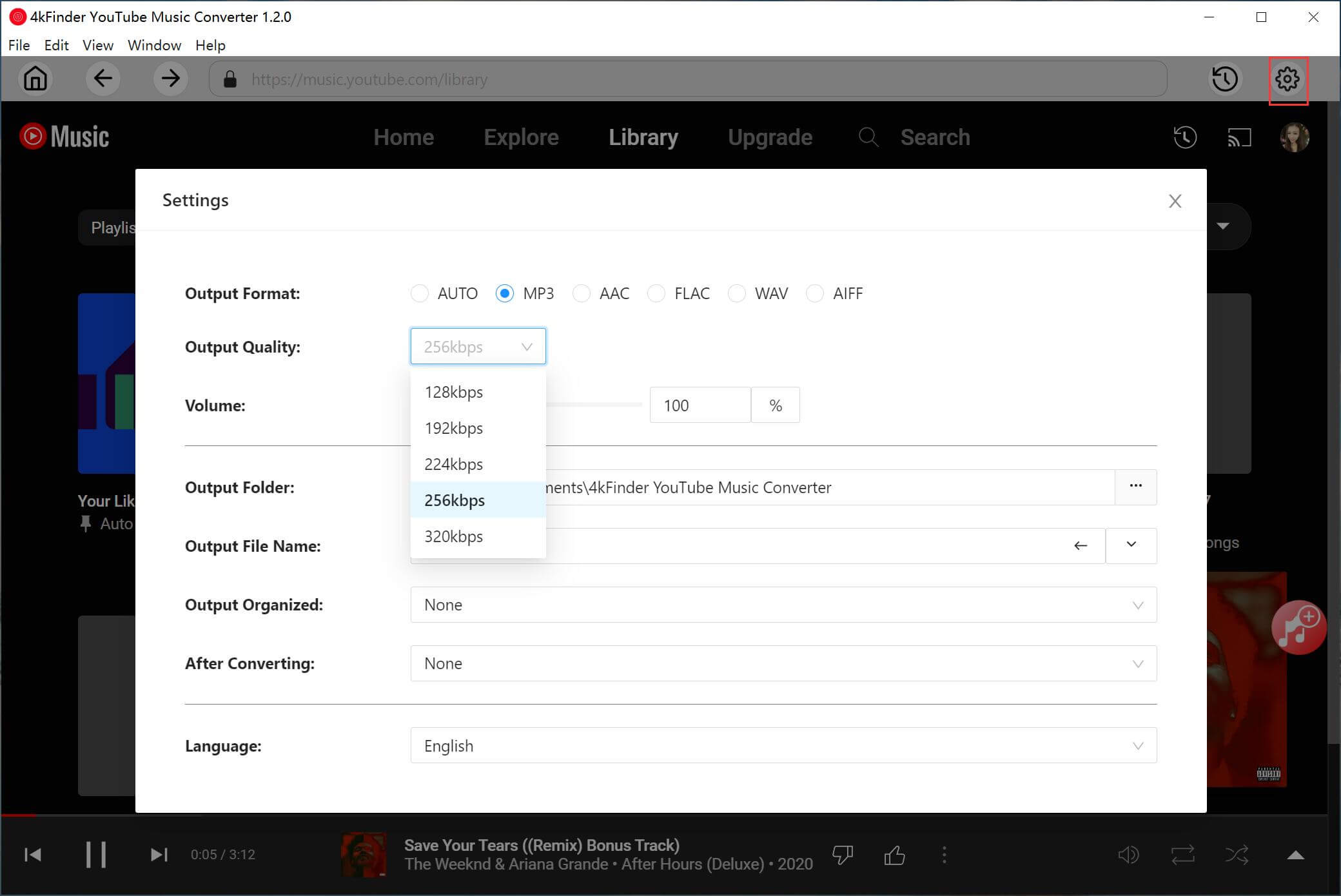 Step 3. Add YouTube Music Songs to 4kFinder
You can now explore and select the songs, playlists, or albums that you wish to download. Simply click on the blue "+" button to add the desired songs to the conversion list.
By default, all of the songs will be automatically selected. However, if you only want to download specific songs from the playlist or album, you can easily deselect the ones you do not need.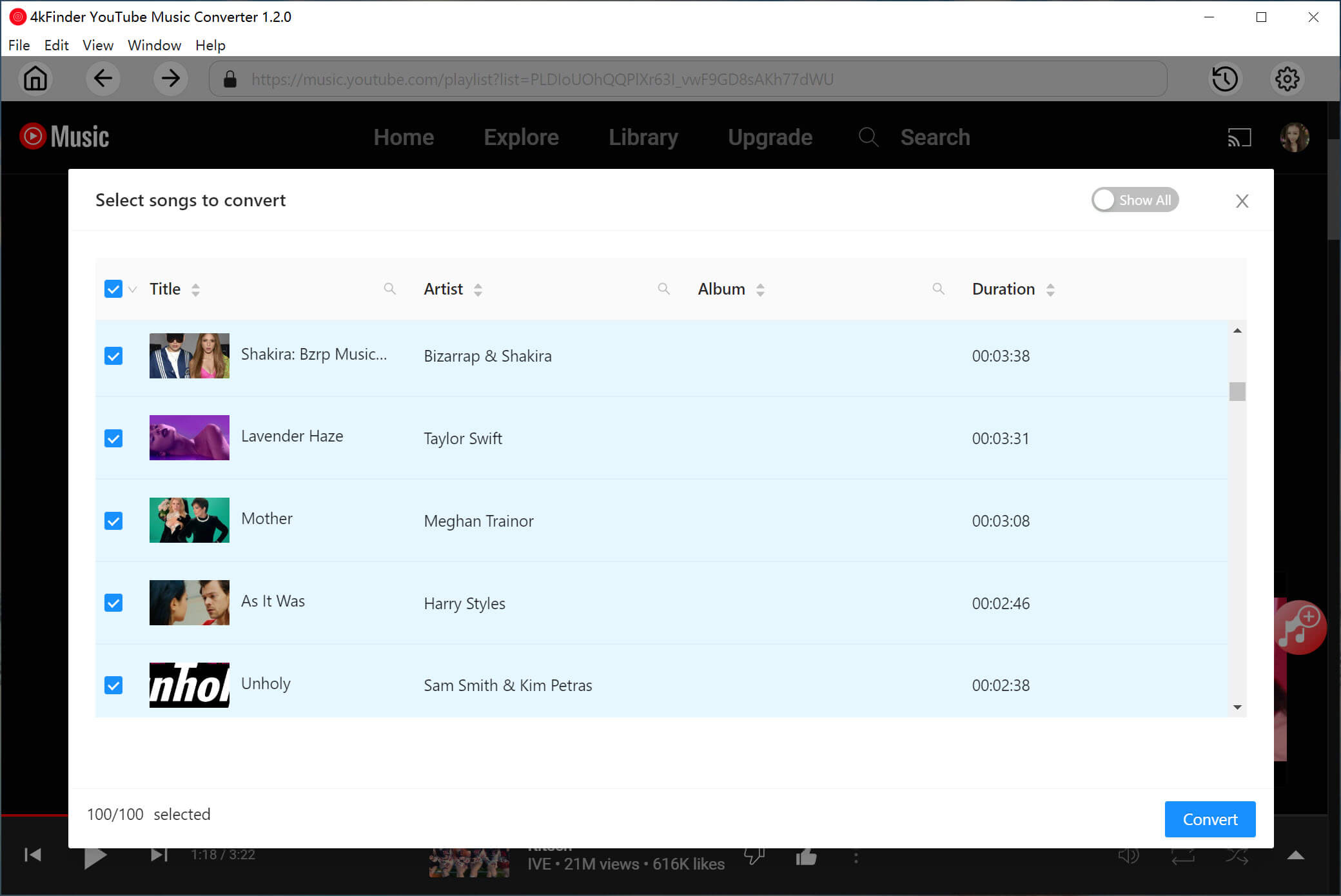 Step 4. Download YouTube Music Songs to Computer
Simply click on the "Convert" button, the selected songs will be downloaded at an impressive 10x speed, ensuring a swift and time-saving experience.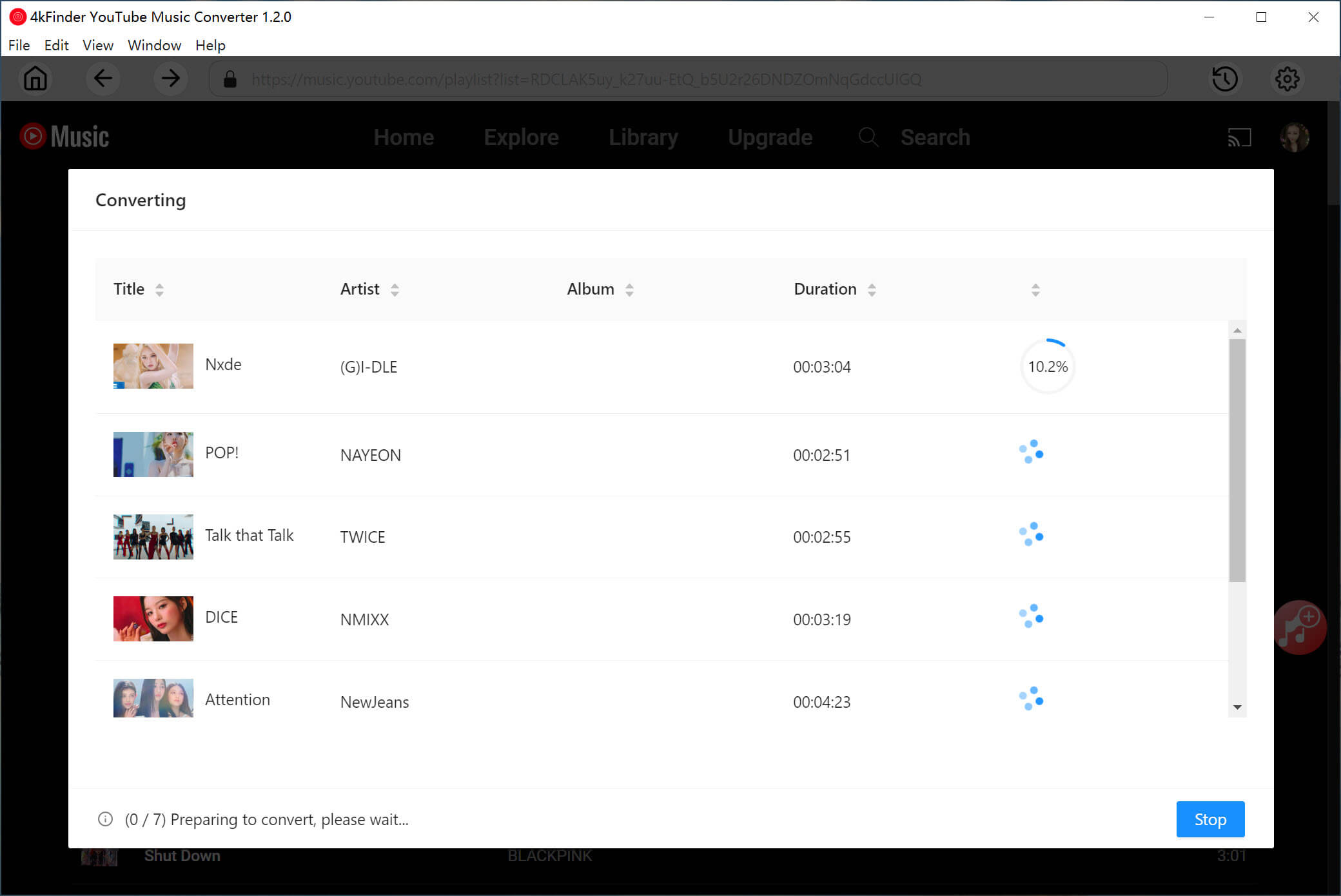 Step 5. Get Downloaded YouTube Music Songs
Once the downloading process is complete, you can find the downloaded YouTube songs in the "History" section. All the selected songs will be downloaded with original audio quality and the preservation of ID3 tags. Now you can freely share the downloaded YouTube Music with your family or friends.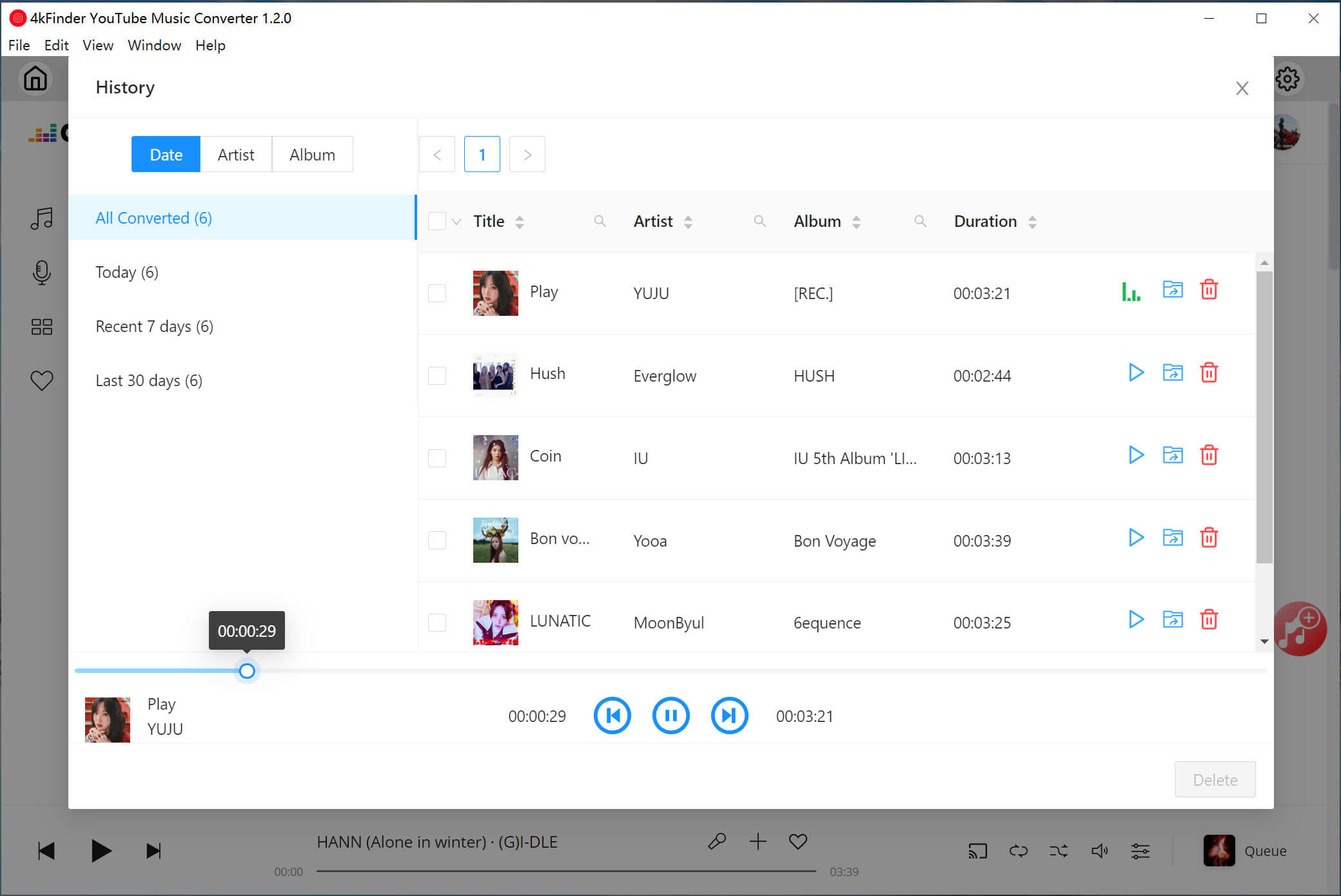 Conclusion
By using the methods mentioned above, sharing YouTube Music can be made more convenient for you. You have the option to share YouTube Music from either the desktop or mobile version of YouTube. However, if you want to ensure that the shared songs are playable on a wider range of devices, you can rely on 4kFinder YouTube Music Converter. This powerful tool enables you to download your favorite songs from YouTube Music and convert them to several popular formats, allowing you to enjoy them on any device, wherever you go.
Share YouTube Music With Family/Friend